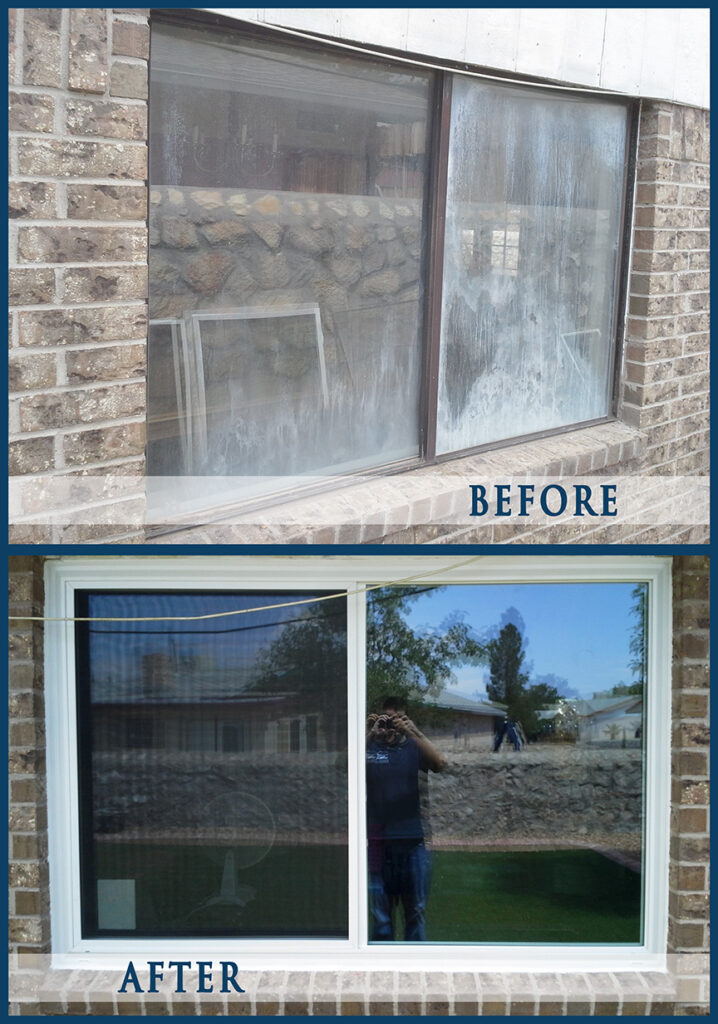 Window replacement and glass replacement, or glazing, are very different trades and many people regularly mistake one for the other.
Window replacement involves the complete removal of a window (glass, frame, and associated parts) in order to replace it with a completely new window. The reason behind most window replacement projects is to replace an inefficient window with one that is highly energy-efficient to help keep hot air out during the hot months and cold air out during the colder months. Because the entire window is replaced, there is much involved, such as proper squaring of the framing, insulation and exterior stucco repair if needed, proper sealing inside and out, and ability to adapt to different styles of home construction, as well as being licensed and bonded for that specific work.
Glass replacement, or glazing, is when actual glass itself is cut, shaped, and replaced/installed within a new or older window, door, skylight, etc., by an actual glazier, or glass tradesman. When a specific pane of glass is broken and needing to be replaced, a glazier is who would measure, cut, and replace that specific piece of glass. This is most often done by an actual glass company, with the tools and ability to actually cut glass for repair.
Now, it has become more and more prevalent for glass companies to additionally offer window replacement services on top of their glass repair services. To this, consumers should be wary for the differences listed above; a glass repair technician is not the same as a full window replacement specialist, nor is a glass company the same as a window replacement company.
So, when shopping around for window replacement, always check the number of years a company has performed full replacements, how many years their installers have performed installations for their specific company, and if they use large teams and speed through installations or use 1 or 2 man groups in order to ensure uniform and proper installation. It is also very important to know if they are licensed with the city they are located in and have proper insurance for actual window replacement; not solely glazing or any other trade outside of window replacement.
In the end, it is always best to be a smart shopper and know what you are getting into before anything is agreed to. You will always be more satisfied when you know exactly what it is you should be receiving for your money.